How to manage users
How to manage users
Add users, groups and manage their settings. Quickly import multiple users with Excel.
Go to the MoreApp Platform and open the Users tab.
Invite a single user
Click on Invite User(s).
Choose A single user.
Fill in the email address of the colleague you want to invite.
Click Save.
Within a few minutes your colleague receives an email to activate his or her account.
Import multiple users
Click on Invite user(s).
Click on Multiple users.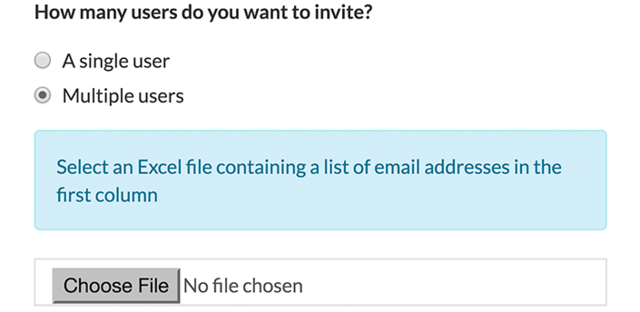 Prepare an Excel file (.xslx) containing a list of email addresses in the first column.
Choose the file and click Invite.
User groups
Click on Create a new Group.
Give the group a name.
Click on Save.
Click on the group you just added and add the colleagues you want in that group.
Give the group rights.
You can also delete a group, for this click on Remove Group.
Now, click Save & Close.
If you now create a form or a work instruction you can add the group at once.
User settings
Click on the user you just added and click on Edit User to change the settings.
Fill in the first and last name and choose the country.
If you want the user to login to the MoreApp Platform, check the admin box. Now he or she has the privileges to build forms.
Check the folders you want him/her to use on his/her phone or tablet.
Click on Save & Close.
You can also delete a user. For this click on Delete User.
Manage users
Now go back to the Forms tab. If you add a new form, you can add users directly to the form.
Click on Manage Users.
Add the colleagues you want to work with the form. Don't forget to do this! Otherwise, they cannot see the form in the app.
Click on Save & Close.
Click on Publish.
Do you want to be the first to receive the latest tutorials? Go to YouTube and hit the Subscribe button.
Back to overview