Tracking time with the Time-Difference-widget
Tracking time with the Time-Difference-widget
Using the Time-Difference-widget will make tracking hours less of a job! The Time-Difference-widget allows you to calculate the time difference between a start time and the end time.
1.Adjust the form
Once you have logged into the Platform, you can select your form and click on Edit Form. In order for the Time-Difference-widget to work successfully, you will need to insert 2 Time-widgets to the form. Name each of the Time-widgets one with "Start" and "End", you can also use whatever name suits your situation.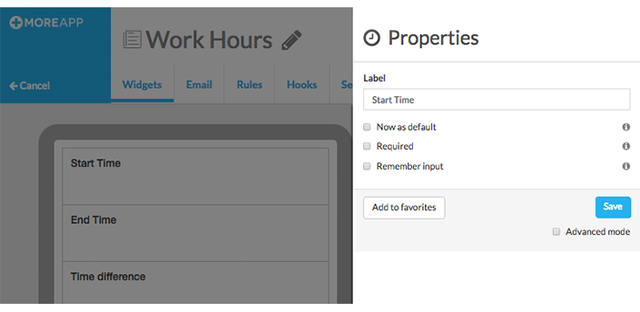 After the 2 Time-widgets are in your form, you are ready to install the Time-Difference-widget.
2.Install the widget
Now you can install the Time-Difference-widget from the Marketplace. Go to the Marketplace and search for the Time-Difference in the Widget tab, now click on Enable and return to your form.
3.Using the widget
You can now add the Time-Difference-widget to your form by clicking on Installed at the Widgets tab. Here you will see all the installed widgets, when you double click on the Time-Difference-widget it will be added to your form. Now edit the Time-Difference-widget by clicking on the pencil, here you click on Start time and End time to select the Time-widgets you inserted at the beginning.

4. Congratulations!
By clicking on Save & Publish you have successfully installed the Time-Difference-widget and you're ready to use it in your forms!
Do you want to be the first to receive the latest tutorials? Go to YouTube and hit the Subscribe button.
Back to overview